Mining is among the largest industries in the world. The extraction of minerals and valuable resources is an extensive operation, which encompasses several surface mining or underground techniques. Modern mining processes have enhanced safety throughout the industry, but many mining professionals still face challenges protecting both workers and the environment.
Due to the inherent dangers of the industry, the equipment utilized in all aspects of mining must be of the highest quality, in terms of both performance and reliability. In surface and subsurface mines, industrial Air Compressor are used as a viable source of electricity for powering drilling and piling machinery, pneumatic tools, material conveyors, and ventilation systems.
To meet increasingly demanding challenges within the mining industry, the experts at Alpine compressors provide rotary vane air compressors that are a reliable choice. These compressors have nearly unlimited capabilities for consistent performance across a wide range of applications.
The unique design of the rotary vane compressor is what sets it apart from other products. The simplicity of the rotary vane principle ensures a long operating life with quiet operation, with a single off-set rotor that is supported by two bushings, daily maintenance is much easier and unscheduled downtime is greatly reduced. Over time, a well-maintained rotary vane compressor will not diminish in performance. The specialized design and construction of this compressor results in only negligible wear, and replacement parts are inexpensive and readily available.
Rotary Vane Compressors
Alpine,s rotary vane compressors also offer the lowest possible energy consumption of any similar product on the market today. Our compressors efficiently compress the air using the least amount of energy, resulting in high compressor productivity and low operating costs. Rotary vane compressors offer a high Return on Investment by offsetting purchase costs with accumulated energy savings.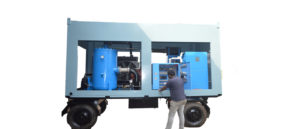 Rotary vane compressors are ideally suited for the heavy-duty applications found in mining operations. High-efficiency performance is a hallmark of our products—rotary vane compressors are no exception. These compressors will improve production and safety throughout all aspects of mining processes. Exceptional performance in a cost saving package is why mining industry professionals rely on Alpine for their equipment needs.
Alpine is a pioneering company of rotary vane compressor technology, and we are proud to provide the highest quality solutions for mining industry. To meet and exceed the requirements of challenging environments, and to obtain dependable, efficient, and safe compressed air, choose the high-quality products manufactured by Alpine indusrtrialcon.
Role of Air Compressor in Food Idustry
In addition to delivering exceptional products to consumers, these companies must also meet certain health and safety standards – in fact, they are required by law to do so.
To meet modernized industrial standards – both in terms of safety and efficiency – these professionals choose compressed air for their applications.
Like various other industries, the use of compressed air is crucial for various daily activities in the area of ​​food and drink. Countless professionals rely on Alpine's line of rotary slide compressors to make their business work optimally.
Our rotary vane compressors offer consistent, reliable service that helps these companies reduce their energy consumption and related costs.
In addition, the compressors these food and beverage companies need, but they provide air that is completely free of contaminants – a crucial function when handling food and beverages.
Regardless of the application size, employees in the food and beverage industry need consistent compressed air that is free from oil, water and other contaminants.
Automated activities are vital for the efficient production of large quantities that today's food and beverage professionals need; most automated operations are driven by air compressors.
Compressed air is also used to drive various special processes, such as filling cakes and pastries, slicing and peeling products (with air knives) and creating delicious chocolates.
Compressed air is used for product handling and packaging applications in the area of ​​food and drink.
Compressed air ensures fast, problem-free handling and transport of materials and products of various sizes and quantities. It is also used in the packaging process as a vacuum seal, protecting products against external contamination during storage and shipping.
Alpine Compressors produces rotary vane compressors of the highest quality, efficiency and affordability. Nowadays countless professionals in the field of food and drink rely on our products.
Click Here for Info: Air Compressor Company in Pakistan