An Edwards' aortic bioprosthesis was successfully implanted transfemoral in two patients who suffered from aortic valve stenosis (AOR).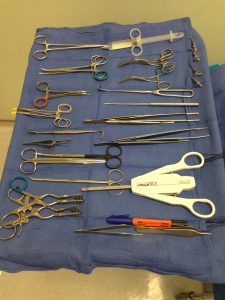 Intervention in the Hemodynamic Block
Implants can be performed by the retrograde transfemoral route, using the usual techniques of cardiac catheterization. The presence of peripheral arterial and / or aortic lesions may prevent this retrograde approach. It is also possible to implant these bioprostheses by minimally invasive surgery (transapical approach by left mini-thoracotomy with the help of thoracotomy surgical instrument set), however much less burdensome than conventional surgery because without median sternotomy or Extra Corporeal Circulation.
Placement of a rigid guide positioned in the left ventricle.
The catheter fitted with the valve is then pushed onto this rigid guide.
The femoral artery is then closed by a percutaneous suture system placed at the start of the procedure or by surgical repair.
For a long time, the Toulouse University Hospital has been a reference center in the management of cardiovascular pathologies and a place of expression of the high level of skills of its teams. As a reminder, in March 1986, Professor Jacques Puel carried out the world's first implantation of an endocoronary stent.
Degenerative aortic valve stenosis (AOR) is the most common heart valve disease in industrialized countries, with an extremely poor prognosis once it becomes symptomatic. Surgical replacement of this valve, with an open thorax and extracorporeal circulation (ECC), is then the only treatment improving long-term survival.
Due to advanced age and / or associated diseases, many patients are not treated surgically because they are considered inoperable and therefore rejected or operable but with a significant surgical risk. Until now, for these patients, only treatments that could be qualified as "palliative" were available, with no effect on survival, no efficacy on symptoms or quality of life.
Advances in interventional cardiology make it possible to offer percutaneous implantation that is to say without opening the thorax and with a beating heart, of aortic valve bio-prostheses thus providing a therapeutic solution in inoperable patients or at high surgical risk. .
To date, around 700 patients have been implanted worldwide with this prosthesis, 400 by the transfemoral approach, between 200 and 300 by the transapical approach. The patients treated were over 80 years of age, and recused because they were inoperable or at high risk of operative mortality in the event of surgery.
This technique has already been implemented in other French centers, in the public and liberal sector, but is not yet widely used. The protocol, still in the process of large-scale validation, requires a high level of expertise from the center and the operators in terms of interventional cardiology, valve surgery, anesthesia-resuscitation.
By implementing this program, the Toulouse University Hospital will help improve the survival, symptoms and quality of life of patients with severe symptomatic RAo, rejected for surgery and / or not operated on because of too high a surgical risk.
For more details, please visit: jimymedical.co.uk