Nothing is better than a classic white shirt to be elegant in all circumstances. Versatile and timeless, it adapts to our daily lives and is associated with all the trends of the moment. Focus on this timeless men & women wardrobe!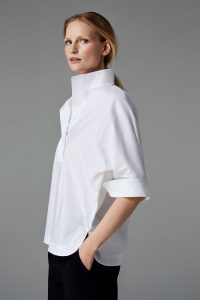 She has that chic that other pieces don't! Every day or in the evening, the white shirt never lets you down. An essential piece borrowed from the men's wardrobe, it crosses the ages and now stands as a classic. Thanks to the oversized trend that is winning all the lines of this Fall-Winter 2020, the white blouse asserts itself and is available. Whether you wear it arched, long or wide, it always has its effect.
Strict and simple in appearance, the white online women shirts can be accessorized. Moreover, many celebrities make it the centerpiece of their closet including Victoria Beckham, Natalie Portman or Meghan Markle. If women adopted it from the 20s and 30s in a boyish style, this trend is taking over more than ever this season. Details, quality and trends. Here's how to wear this unique fashion piece from the male and female closet!
To be casual with a white shirt
It is the ideal piece to wear with all styles! But above all, it goes perfectly with another classic: jeans. As with a uniform, it's the perfect combination that keeps you from fashion faux pas. For this look, choose a shirt with a lapel collar, long sleeves and dropped shoulders. In order to keep it for several years, pay attention to the details of your shirt: observe the buttons as well as the thickness of the fabric which will immediately make the difference in case of hesitation.
It is preferred in cotton poplin or linen, both in summer and in winter. For a very casual style, pair it with an asymmetrical bottom with slits, it's even better.
For this casual and classic look, raw, straight, flare, slim or boyfriend jeans will do just fine. Question color, the white shirt adapts to all shades of denim. Like Camilla Belle, do not hesitate to unbutton several buttons. Like her, have a pair of silver ankle boots with blue boot cut jeans and you're done!
For a completely different style, opt for white jeans to match the shirt, which will bring a modern touch to this simple outfit. Sign this total look with the new New Balance 327 a 100% green dyed. If you prefer to gain height, we also suggest the Castaner ankle boot in patent leather with a square heel and semi-square toe design. Glamor at will!
To be chic but above all stylish, wear the loose white shirt like a dress. Consider belting the waist to mark your silhouette.
For more details, please visit: holaaamor.org