It's not always easy to find the right look for the beach. Contrary to what we sometimes tend to think, it is quite possible to appear feminine and dressed on the sand or the pebbles. What is needed is to make the right associations. Choice of materials, trendy it-pieces, accessories … We tell you what outfit to adopt to be both stylish and comfortable at the beach!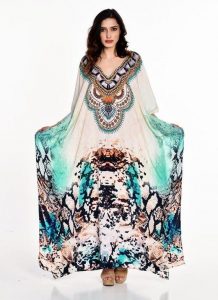 Choose light materials and aerial cuts
 Idyllic, ideal for sunbathing, enjoying the sun and relaxing, the beach is a dream but requires adequate clothing. Who says sea, sand and pebbles, necessarily says heat and therefore light clothes. If comfort is essential, it is quite possible to pay attention to your look and bet on chic and daring sets.
The key is to know how to choose the right parts and make the right associations. First rule: forget everything that is too close to the body, pieces that are too extravagant and those that tend to hang like jeans, pants, or even neoprene or synthetic dresses.
To feel good, we ensure the blow by betting on fluid, light and airy materials for a bohemian chic side. Your favorites? Cotton, lace, crochet, fine jeans or even linen materials that let air through and allow us not to suffer too much from the heat, while being worked and trendy.
Beach dress, tunic, shorts, jump suits, kaftans, What to choose?
 To go to the beach, you have to bet on practical outfits in summer colors. The it-pieces of the current year? The beach dress, the kaftan, the jumpsuit, the denim shorts associated with a tropical print t-shirt or even the blouses of all kinds and crochet tunics. Easy to put on and take off, these clothes are perfect for the beach. Need inspiration for a stylish look?
We offer you different possible outfits. You can, for example very well opt for a striped or floral jumpsuit, associated with a pair of gladiator sandals and a pretty triangle swimsuit.
For those who prefer to have to remove only one piece, we put more on the beach dress. How to choose it? Long, fluid, and slightly transparent to gently reveal her swimsuit. Another mix that works? The ladies beach kaftan, to choose preferably neon and decorated with ethnic patterns on the neckline, or the combination of fluid shorts and patterned top.
Accessorize your outfit
Once you have chosen your beach outfit, you must now accessorize it! To protect yourself from the sun and get a bit of zeal at the same time, opt for a large straw hat with wide brims. For the model, we let you choose the one that suits you best, even if we love Panama. To protect his eyes, a pair of sunglasses is essential.
To combine practicality and fashion, we set our sights on a trendy model. The must? Round, tortoiseshell, glitter or silver sunglasses. On the jewelry side, we count on the Brazilian bracelets that we often find in the markets during the holidays: colorful and water resistant, they are perfect for summer and allow you to twist your look at low prices.
As for shoes, several possibilities are also available to you: water-resistant jellyfish (because yes, they are making a comeback), colorful flip-flops such as Hawaiians, Birkenstock or even wedge espadrilles.
For more details, please visit: holaamor.org